What is the Difference Between a Dormer and a Mansard?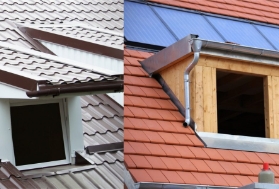 The popularity of loft conversions continues to thrive in all parts of London. It is an ideal choice for those who want to have additional living space but lack the means to move to a bigger house. This type of home renovation is very common all over the world, but loft conversions in South London remain one of the most sought-after projects in the city.
If you are planning to complete a loft conversion in South West London style, you need to determine the kind of loft that fits your household's needs. The most common types of loft conversion include dormer and mansard conversions. But before you get started, you should understand the difference between the two.
Dormer Loft Conversion
When doing dormer loft conversions, you must ask your builder to extend your existing roof at a vertical angle. It must be built away from the sloping roof to boost the headroom and floor space in your home. This loft conversion also involves vertical walls and horizontal ceiling, which is very different from other types of lofts. If you choose the dormer loft, you can have it built without planning permission. You can also choose among the flat-roof dormer, gable-fronted dormer, shed dormer, or hipped roof dormer depending on the aesthetics you want to achieve.
Mansard Loft Conversion
This type of loft conversion received its name from a 17th-century French architect named Francois Mansard. It is usually placed in the rear area of the property. The mansard loft conversions are characterised by a flat roof and rear wall which slopes inwards at a 72-degree angle. You may also choose to have an L-shaped mansard loft conversion to add more value and space to your property. But unlike the dormer lofts, planning restrictions must be observed in various areas in the UK.
Major Differences Between Dormer and Mansard Lofts
You must consider these key differences if you need to choose between these two popular loft conversions. They include:
Roof Type – Dormer conversions usually have an extension that juts out from the rest of the property when viewed from street level. Meanwhile, the roofs of mansard lofts provide more head height.
Purpose – Between the two selections, the mansard lofts can provide the most moving space. However, you may choose the dormer loft if you want to get as much natural light in your property as possible.
Budget – Among the loft conversions choices, dormer lofts are more affordable than mansard lofts. Some builders charge £40,000 for a dormer loft, while you have to spend at least £45,000 for a mansard loft.
Planning to have a loft conversion in your property can be a complicated task, especially if you have no idea which to consider from the start. By comparing dormer and mansard loft conversions, the decision making process you embark upon will be one that's far less stressful when considering which to install in your London property.