How to Choose the Right Lighting for Your Loft Conversion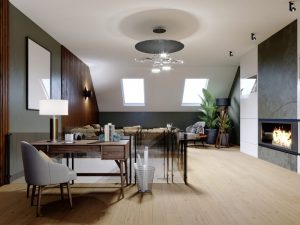 If you've finally decided to move forward with a loft conversion in South London, you'll have lots of important design choices to make and lighting is right up there at the top of the list. You'll need to consider how to use lighting to make the most of both decor and function for your new loft space.
Do you want it sleek and contemporary for an entertaining space or light and bright for working? These are just a few of the things you have to think about when choosing the best lighting for loft conversions.
Let's take a look at the two most widely used loft conversion lighting ideas to learn how to choose the right lighting for your loft conversion.
Making the Most of Natural Light
The easiest and most cost-effective way to create light in your new space is by adding plenty of windows or a glass door to let in as much natural light as possible. Adding a roof light to your loft conversion is another option for adding natural light. Having ample natural light will not only save on electricity bills, but also create warm and uplifting ambiance.
Options for creating maximum natural lighting:
Skylights.
Hip-to-gable or gable-to-gable windows.
Standard and oversized Windows.
Glass Doors.
Choosing the Right Lighting Fixtures
Windows are ideal for brightening up your loft during the day, but at night you need artificial lights to brighten up your space. Loft conversion lighting fixtures, when chosen correctly, can add all the light you need inside your home and also create a stylish statement to the décor.
The style and amount of light you need will largely depend on what the loft conversion will be used for – home office, gym, guest room, crafting room, yoga & meditation room, etc.
The sky is the limit when it comes to choosing lighting fixtures, it really comes down to the purpose and style of the room.
Options for lighting fixtures:
Contemporary built-in ceiling spotlights.
Rustic hanging light bulbs.
Large hanging light fixture.
Wall lights.
Lamps.
And more…..
Creating the Right Look with Doran Bros. Construction
Everything from the design, materials, furniture, accessories, and lighting needs to be spot-on to get the look you want.
When working with a loft conversion specialist from London, such as Doran Bros. Construction, you can benefit from their years of experience in helping homeowners design the loft conversion of their dreams.
Click here to quickly review our case studies. Or you can contact us to learn more about our services and our team.