Will My New Loft Conversion Add Value to My House?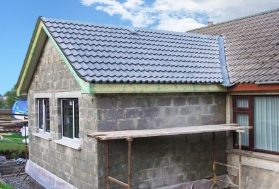 One of the most common complaints among UK homeowners is that their homes just don't have enough space. Whether it's storage or an additional room you're after, a loft conversion is a cost-effective way to make your home work for you and your family. Plus, according to Nationwide Building Society, a loft conversion can increase the value of your home by up to 20%!
Types of Conversions Dormer:
The most common loft conversions in the UK, they are an extension to your existing sloping roof. The conversion extends vertically from the roof, using walls and a horizontally oriented ceiling making it feel more like a traditional room.
Velux:
A Velux or roof-light loft conversion is often the cheapest and least invasive option. Windows are installed into your existing roof without changes made to the existing roof structure, so the look of your house will stay the same.
Mansard:
A mansard loft conversion is situated at the back of the home, extending out from the entire plane of your roof. It has a flat roof and a back wall that slopes inwards, the windows often installed within small dormers.
Hip to Gable:
If you have a gable-end roof, a Hip to Gable conversion can make a significant change to your existing available space. Often a rear dormer is added, giving you even more space. Things to Consider If you've decided to enhance your livable space through a loft conversion, there are several factors to take into consideration to ensure your conversion is safe, functional, and suitable. Most properties have a loft suitable for conversion.
The type of house, roof slope, and roof structure you have will determine the type of conversion you are able to get. You will generally need 2.2m of head height and at least 2m clearance to accommodate a staircase. Most loft conversions do not require planning permission, but if you will be changing structural elements to your house or roof, you may need to get permission.
If this seems like a lot to deal with before construction even begins, don't worry! Doran Construction has years of proven experience with loft conversions and will help you with every step of the way to get your loft conversion right. To find out more about our comprehensive services for loft conversions in South and South West London.