The Benefits of Adding a Home Office in Your Home Extension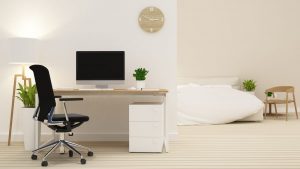 With an increasing number of people working remotely since the pandemic, working from home is the new normal. However, it can be noisy and there can be a lot of distractions going on in your house that make it hard to stay focused and get work done when working from home. If this is the case, it may be time for a home office extension.
Whether you plan to work from home full-time or occasionally, adding an office to your home provides several important benefits. Here's how…..
Benefits Home Office Additions          
Improves Work Productivity
No more distractions and uncomfortable working environments. When you work with a design-build firm like Doran Bros. Construction for your house extension in London, you'll get expert guidance for creating a custom work environment that inspires productivity every workday.
Adds Square Footage to Your Home
Adding a home office to your existing house can create a comfortable, quiet place for you to work and adds to your home's total square footage which can increase property value.
The most common types of home-office additions are:
Above garage.
Detached studio.
Bump-out addition.
Basement conversion.
Attic/loft conversion.
Spare room conversion.
Increases Property Value
In recent years there has been an increased demand for homes with offices. Adding a home office to your property can increase its worth by as much as 10%! Not a bad investment, don't you think?
Other benefits include:
Peace and quiet.
Freedom to create the ideal workspace.
Eco-friendly.
No commute time.
Less money spent on clothing.
Tax advantages.
Flexibility.
Bonus Tips
Here are a few things to consider when designing your dream office:
Soundproof your office to eliminate noisy distractions.
Build adequate storage space to keep it organised and uncluttered.
Buy comfortable and ergonomic office furniture to benefit your comfort and health.
Install plenty of conveniently placed electrical outlets to support all your devices and office equipment.
Plan ahead to include sufficient natural and workspace lighting to keep things bright.
Why Choose Doran Bros. Construction for Your Next Home Extension in South West London
When investing in a house extension in South London, it's important to work with a professional and experienced construction company from South London, like Doran Bros. Construction.
Our team of experts will work with you to build the custom home office of your dreams. Contact us online today to know more about our services.