6 Modern Lighting Trends To Enhance Your Dining Room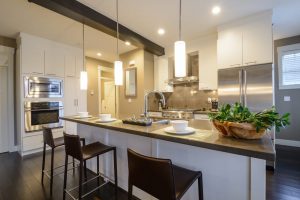 The dining room in particular holds a special place in everyone's home. It's the place where memorable moments are spent with family and friends, enjoying great food and conversation. That's why it's so important that your dining room shines!
If you're doing a house extension in South London and are revamping your dining room, you'll want to check out the following dining room lighting ideas to add a modern touch to enhance your dining room.
6 Modern Lighting Trends to Enhance Your Dining Room
The right lighting fixtures are a crucial element for enhancing the décor of every well-designed dining room. Here are some dining room lighting trends that are sure to brighten up your dining room in more ways than one!
1. Double Drum Lights
Choose double light fixtures instead of a single light fixture to illuminate a large dining area or table. A pair of drum shade pendant lights are the perfect stylish statement for a rectangular dining area to perfectly illuminate the dining space.
2. Contemporary Gold Light Fixture
To add stylish and elegant details to a minimalistic and small dining space, go for a gold-accented large overhanging light fixture. This stylish modern design with a gold finish will cast a warm glow to enhance the visual appeal and feel of the room.
3. Standing Floor Lamp
Instead of the obvious choice of ceiling lights, choose a large floor lamp to be the statement piece for the room. It will add style and functionality.
 4. Simple Horizontal Light Fixture
Instead of going for a bold light fixture, choose a contemporary horizontal light fixture with multiple light bulbs to compliment your dining room décor.
5. Oversized Light Fixture
Instead of a formal chandelier with crystals, go for a unique oversized light fixture. It can be whimsical, unique, and reflect your personal style to create a statement in a contemporary dining room.
6. Metallic Bubble Chandelier
Go for an unusual metallic bubble chandelier to add a retro and elegant look to any standard dining room. A bold contemporary light fixture with metal orbs will give your dining space a stylish retro look.
Doran Bros Construction is one of the leading builders for home extensions in Southwest London. Put your trust us to create the remodel you've been dreaming of all these years.