The Role of Interior Design in Property Refurbishment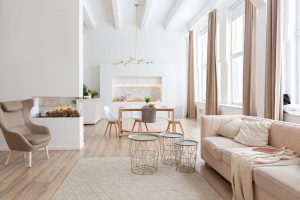 If you're ready to get started on a new property refurbishment project in South London, using an interior designer can add a lot of value to your home renovation. Attempting to do everything yourself can be fun and exciting, but it can also be overwhelming and costly if not done well.
The role of an interior designer is key to successful interior design and property refurbishment. They can help you avoid costly mistakes, save money, and bring your dream home to life.
For the best refurbishment company in London, contact us and we will help you complete your luxury property refurbishment. We collaborate with some of the best interior designers in London to make sure the build and design of your loft conversion or home renovation are done right from start to finish!
From money-saving tips to design ideas, a professional interior designer can also reduce the stress associated with renovation projects. Here are a few ways that an interior designer can add value to your property refurbishment in West London.
Access to Industry Professionals
When you hire an interior designer for your project, you don't have to search for trustworthy plumbers, electricians, or other tradespeople because your designer will already have a network of professional vendors and contractors in place.
Enjoy the Renovation Process Without the Headache
Professional interior designers not only have the experience to create beautiful spaces, but they also oversee the complex day-to-day operations of directing vendors, sticking to the budget and timeline, and ordering items. And, most importantly, they can provide solutions to problems that arise to keep the project on track.
Increase the Value of Your Property
In addition to taking an idea or vision from a homeowner and transforming it into reality, their designs and decisions can also increase the value of your home. Think of the designer as your guide for choosing the best finishes and materials that will both appeal to buyers and stand the test of time.
Identify your Design Style
Professional interior designers help homeowners decide what style and look they want their home renovation to have and how they want it to function. A well-thought-out interior design plan should suit the personality and lifestyle of you and your family.
Ready to embark on your luxury property refurbishment in London? Schedule your consultation today with Doran Bros. Construction today to learn how we can bring your project to life.
Keep exploring our website to see our latest home renovation projects in London.