What Type of Loft Conversion is Used in Long Term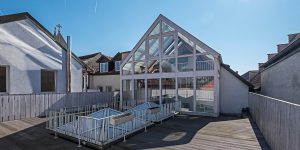 Converting a loft into something new requires professional help. That's because it's a part of planning the layout of your house by architecturing a structure. That's why we provide a loft conversion in South London services to help you to convert an abandoned part of your house into a functional area with our efficient planning.
However, we have put down a good loft conversion idea for the long term for you.
So, check it out!
How Does Loft Conversion Work?
Loft conversion work by utilising any abandoned part of your house and converting it into something useful for value addition in your home.
Best Loft Conversion Ideas for the Long Term
You may know which part of your house needs loft conversion, but here are some of our suggestions that you could use:
Abandoned Room
You can utilise an abandoned space of any one of your rooms for extension or renovation. This could be an additional bedroom, guest room, play area for kids, prayer area, or anything else.
Basement
Your basement can also be used for a loft conversion. For example, if you have remote work, you can set up your office, library, workshop, or room for rent if you have remote work.
Roof Light
If you want a convenient and affordable loft conversion, the roof light loft conversion is the best option for you. That's because this type of loft conversion is cheap and convenient to design and construct. And it is much less time consuming than other types. You will probably need a window, flooring, and staircase for roof light loft conversion.
Dormer
A dormer loft conversion is the most common type, and it is also a convenient way of a loft conversion to add more space and value to your house. However, it is more expensive than a roof light.
Final Word
A loft conversion is an ideal choice to make the house roomy and valuable. So, you can avail of our loft conversion South London and loft conversion South West London services at all times.