The Modern Twist Space-saving Stairs for Loft Conversions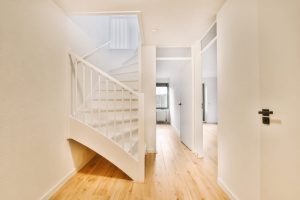 One of the benefits of doing a loft conversion in South London is making storage space into a functional space. While homeowners daydream about designing their new office space or guest room, space-saving staircases for small loft areas are usually an afterthought.
However, a space-saving staircase is not only important for practical reasons, but it is also a key design feature in itself, which can give your loft space a modern twist.
Here is our guide on how to choose the right design for a small landing space-saving loft conversion staircase that will add style and function to your home renovation.
How To Get Started with a Loft Conversion in South London
To make the most of your loft conversion in South London, it's always advisable to hire a qualified loft conversion company in London that understands the building regulations and will recommend the best staircase design for your specific project. As one of the leading loft conversion specialists in London, Doran Bros. Construction will ensure that your home renovation exceeds your expectations from start to finish.
Modern Design Ideas for Loft Conversion Space-Saving Stairs
The four primary styles of loft conversion space-saving stairs are:
L or U-Shaped Staircase
For homes that have a small landing for the staircase, an L or U-shaped staircase is the ideal choice. Since it has a bend, it allows you to create elevations of different levels that lead up to the loft seamlessly.
Spiral Staircase Space Saving Stairs
This is a classic, and one of the most popular, space-saving staircase styles that is perfect for homes where there is an extremely small space to work with.
Ladder Staircase
For homes with particularly limited space, you can incorporate a ladder staircase which can be placed in just about anywhere and takes up minimal space. However, since it can be a bit inconvenient to go up and down, it is a less popular option.
Paddle Staircase
A compact paddle staircase is a great space-saving option for a loft conversion when dealing with small space and a small landing.
Contemporary Space-Saving Stair Designs: Hire the Loft Conversion Specialists in London
A loft conversion in South London is a great way to expand your home that is economical and relatively quick. If you want to convert your loft and get help with a space-saving stair design, contact Doran Bros Construction – your loft conversion specialist in London. Get in touch with our team to discuss your dream loft conversion designs.