Sustainable House Extension Ideas for an Eco-friendly Home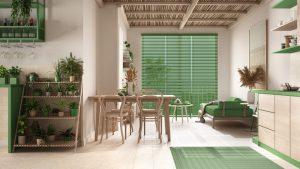 If you are an eco-minded homeowner that's planning a house extension in London, you'll probably be interested to learn some of the best ways to guarantee that it's designed in an eco-friendly and sustainable way. To help you achieve a more earth-friendly remodel, we've put together some of our top tips to ensure that the home extension you've been dreaming of for so long is built as sustainably and eco-friendly as possible.
ECO-FRIENDLY HOUSE EXTENSION IDEAS
When designing your house extension in South London, consider the type of lighting you have in place, window technologies, insulation, doors, and even appliances because they all have a huge impact on the amount of energy you use and your carbon footprint.
Reuse and Repurpose Where You Can
When it comes to sustainability, repurpose materials as much as possible to reduce waste. Think of it as a fun game to see how many items you can repurpose for your new space, but still create an awesome NEW space. Combining the new with the old is the new eco-chic! Not only does this help by creating an eco-friendly house design, but by repurposing where you can, you will also save money and the environment.
Natural Materials
Using natural materials that are locally sourced (if possible) for your eco-friendly home extension is yet another way to make it much more sustainable. Some of the most popular options are using sustainably sourced products such as hemp or wool insulation, locally sourced wood, stone, tiles, etc.
Use Energy-Efficient Fixtures and Appliances
If you're doing a kitchen remodel, install energy-efficient appliances and fixtures that can deliver exactly the performance you will need while still being as earth friendly as possible.
Install Sufficient Insulation
Having sufficient insulation installed is the key to reducing energy consumption and minimising the environmental effects of harmful emissions from heating and cooling systems. In today's market there even are eco-friendly insulation products such as hemp insulation that are great at insulating your home.
Power Supply
Solar power is the most common eco-friendly and sustainable way to generate electricity for your home. Not only will it save you money over time, but it protects the environment.
If you want to know how to make your home eco-friendly in the UK, start a consultation with Doran Bros. Construction. As one of the leading construction companies in South London, we specialise in home renovations and are passionate about building sustainably.
If you're planning a home extension in South West London, contact us today.