5 Ways to Make Your House Extension a Pet-friendly Space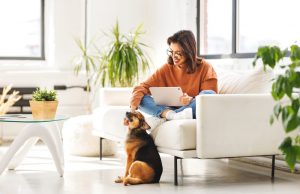 The time has come when you can finally begin your dream home extension in Southwest London. You've probably got it all planned out, but have you considered how your furry friend fits into the living room remodel?
If you have a pet, it's important to come up with pet-friendly living room ideas so everyone can live in harmony! Working with an experienced construction company in South London like Doran Construction is the best way to ensure your pet-friendly home is both functional and attractive.
When designing your living room remodel, use these house extension design ideas to optimise your living space for all the wear and tear that comes with pet parenting without compromising on style.
TOP 5 PET-FRIENDLY INTERIOR DESIGN IDEAS
1. Install Easy-To-Clean Floor Surfaces
Say no to carpets or rugs since they accumulate fur, dust, and can also turn into a very unpleasant breeding ground for fleas during flea season. Instead, choose easy-to-clean floor surfaces like laminated wood flooring, painted concrete, or tiles.
2. Use Water-Proof Finishes on the Walls
Pets will be pets, and they've been known to put their paws on the walls. That's why using a finish on the wall that can easily be cleaned is important for creating a pet-friendly space. Whether you choose paint or wallpaper, there are thousands of attractive and practical options to choose from.
3. Keep The Space Open and Uncluttered
Since pets enjoy being active, reorganise the layout of your furniture so that they have plenty of space to play. Also, keep fragile items out of your pet's reach to prevent unwanted accidents and conceal cords and wires to prevent chewing temptation!
 4. Create a Zone Just For Your Pet
When designing your remodel, consider setting aside a small area dedicated to your furry friend with his bed and built-in storage for his toys, and anything else that makes him happy.
 5. Keep Your Pets and Family Safe
Avoid using chemical cleaners, use organic cleaners that aren't harmful if ingested. Also, keep all toxic products (medicine, pesticides, etc.) out of reach of pets.
To keep your family healthy, make sure to thoroughly clean floors frequently to eliminate dirt, dander, and fur which can trigger allergies.
Best Construction Company in South London – Doran Bros. Construction
If you're ready to get started on a new house extension in London, look no further than Doran Bros. Construction. We are experts in remodels, home extensions, and loft conversions.